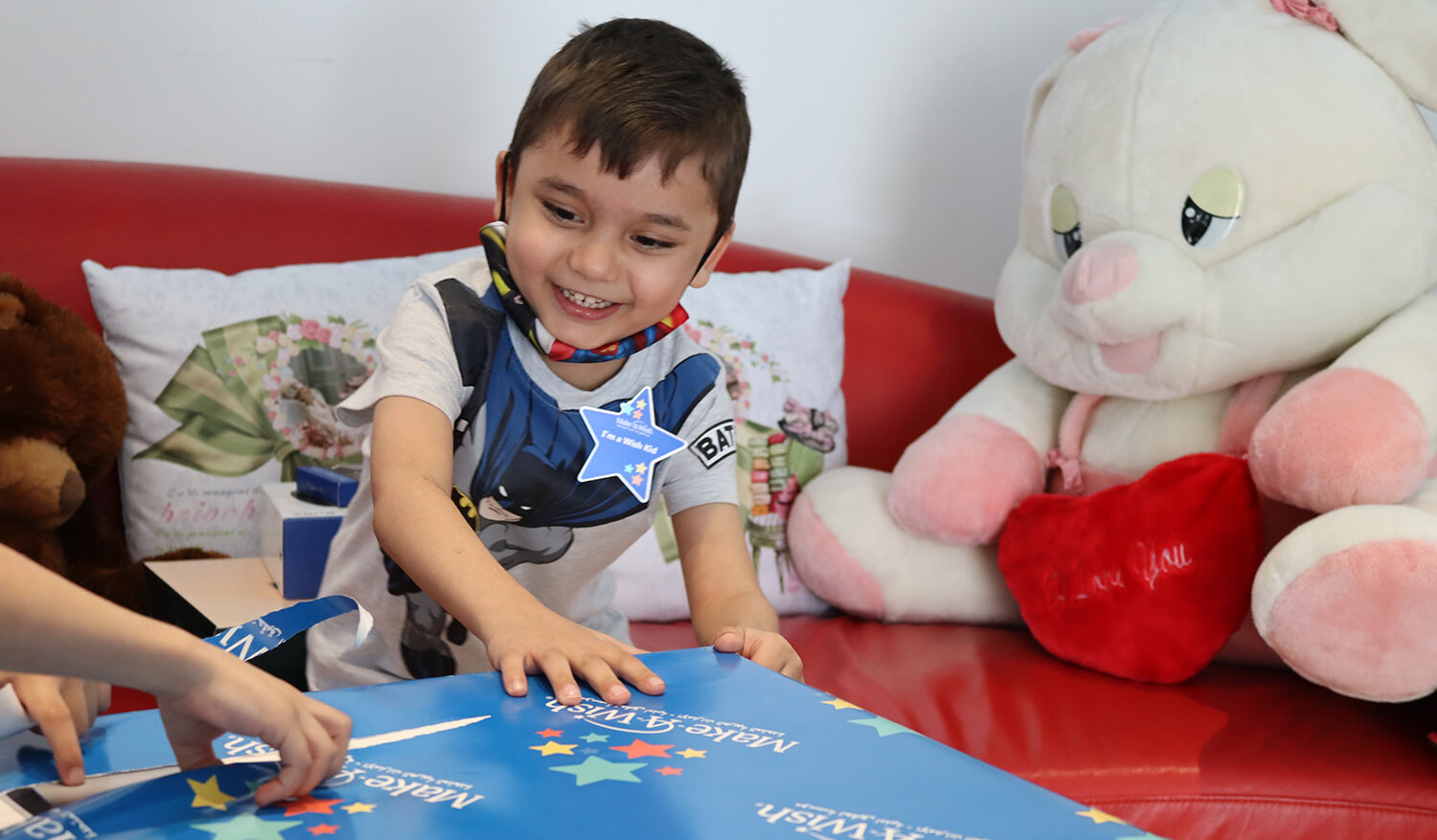 To grant the wish of every eligible child.
Together, we create life-changing wishes for children with critical illnesses.
Our values serve as the map to attain our vision of granting the wish of every eligible child.
They are a clear guide to our priorities, and lead the way in everything we do.
Child Focus: We always put wish children first.
Integrity: We are honest, transparent and respectful.
Impact: We deliver life-changing work.
Innovation: We are bold, imaginative and creative.
Community: We are a diverse group of people working together towards a common goal.
Together, we are committed to building an inclusive and diverse culture that celebrates and values all the voices and cultures of our children and our communities worldwide. We know that our wish children and the wishes we grant are unique, and we promote our colleagues, volunteers, and communities to embrace their own uniqueness so they can be their authentic self, empowering them to grant the wishes of every eligible child.
Make-A-Wish International has 40 Affiliates that grant wishes in nearly 50 countries across 6 continents.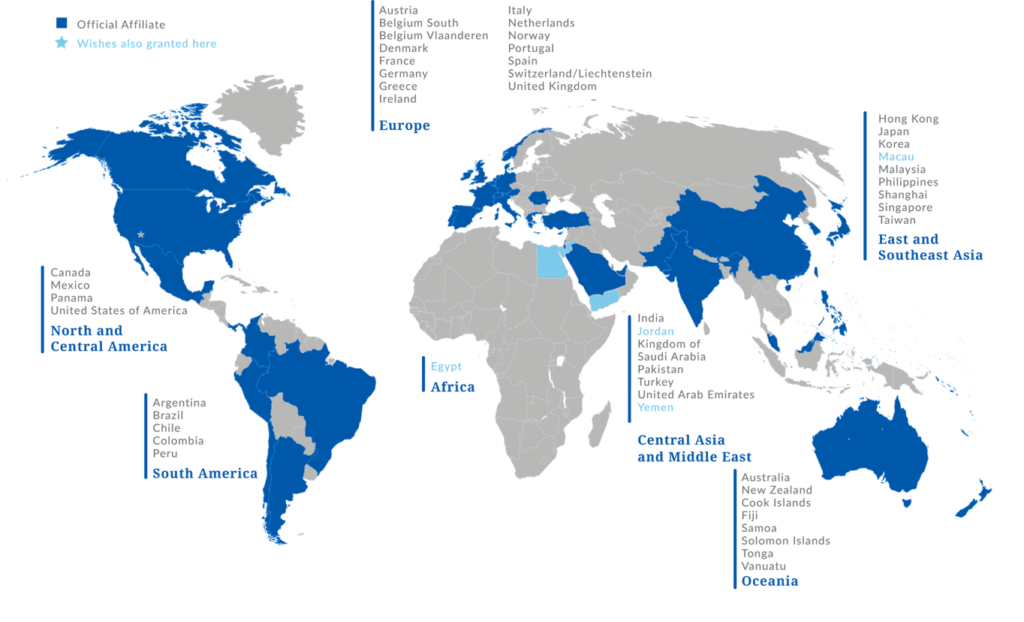 Argentina
Australia
Austria
Belgium
Brazil
Canada
Chile
China
Colombia
Cook Islands
Curacao
Denmark
Egypt
Fiji
France
Germany
Greece
Hong Kong
India
Ireland
Italy
Japan
Jordan
Kingdom of Saudi Arabia
Korea
Liechtenstein
Macau
Malaysia
Mexico
Netherlands
New Zealand
Niue
Pakistan
Panama
Peru
Philippines
Portugal
Samoa
Singapore
Spain
Switzerland
Taiwan
Tonga
Turkey
Tuvalu
United Arab Emirates
United Kingdom
United States of America
Yemen
Timeline
1980
Chris Greicius wish to be a police officer is granted. His wish inspires the creation of Make-A-Wish
1983
Make-A-Wish Foundation of America is incorporated. President Ronald Reagan grants the first presidential wish to Amy
1985
The "Stephanie in the Snow" video inspires the establishment of more chapters
1988
Reader's Digest article, "They Bring Joy to Sick Kids," generates international awareness of Make-A-Wish
1990
Make-A-Wish celebrates its 10th birthday and 10,000 wishes granted. Make-A-Wish receives the Citation for Volunteer Action Award from President George H.W. Bush
1993
Make-A-Wish International is formed to serve countries outside of the U.S.
1996: The Make-A-Wish website, wish.org, goes live
2000
Make-A-Wish now serves every community in the U.S. Wishbone logo is replaced with a swirl and star logo. Over 75,000 wishes granted
2004
Make-A-Wish selected as one of "America's Greatest Brands"
2010
First World Wish Day is celebrated around the world. Over 198,000 wishes granted
2018
Make-A-Wish unveils brand refresh and establishes a permanent headquarters
2020
Make-A-Wish has granted more than 500,000 wishes, with the support of more than 43,000 volunteers globally
2022
Make a Wish establishes a new branch in Kingdom of Saudi Arabia.